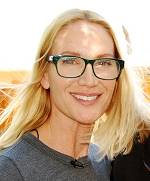 Although actress Kelly Lynch appeared in Drugstore Cowboy, Roadhouse, Charlie's Angels, and the swanky Miami TV series Magic City, we love her movies about Modernist preservation. She's also got two killer Modernist houses in Los Angeles.
Myrick Howard has been President since 1978 of Preservation North Carolina, the state's premier preservation organization, and knows how to keep these works of art alive.
On this episode, learn how to win a best-dressed award for just $15! Choose the right chair for a Basic Instinct re-make! Protect your favorite Modernist house from the bulldozer!